Perfect Veteran Level Walkthrough
The guide for iBomber Defense covers each level and how to achieve a perfect rating, meaning no lives lost due to enemies leaked, no turrets destroyed and of course, completing the level. The campaign is split into 4 separate guides, 2 each for the Axis and Allies, with the Quickplay and Bonus missions having their own index which is being updated as more guides are finished. Videos are included in the guides.
iBomber Defense Campaigns
---
About iBomber Defense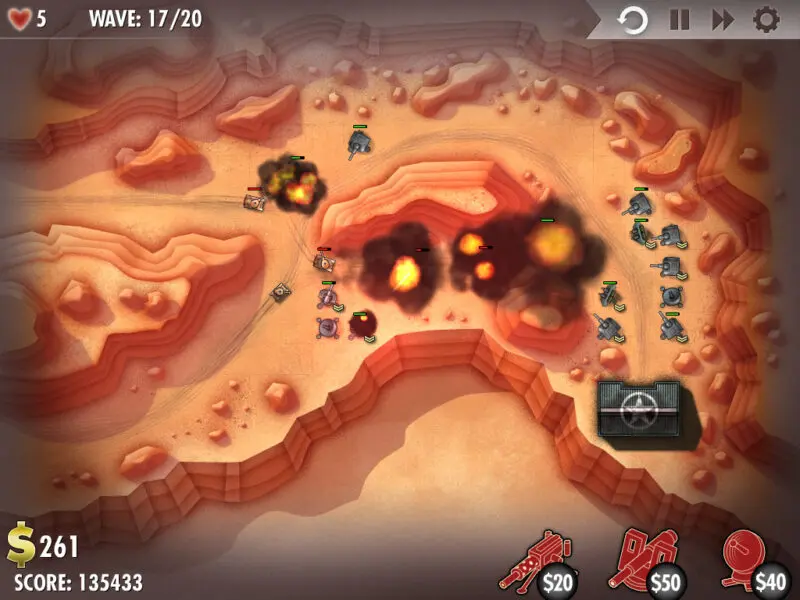 Official Description:
iBomber Defense combines classic tower defense gameplay with intense action and strategy. Keep enemies at bay all over the world using a variety of weapons and tactics, from rattling Machine guns, explosive cannons and awesome anti-aircraft artillery! Choose from Quick play and Campaign modes and battle across North Africa, Europe and Russia as both the Allied and Axis forces. Position your defenses and prepare for attack.
Tower Defense
Single player campaign (28 Levels)
+ Quickplay mode versions and 2 special bonus levels
Developed by Cobra Mobile
Release Date: May 26, 2011
Platforms: Windows, iPhone, iPad
See Also: iBomber Defense Pacific
Our Comments:
Thoroughly enjoyable an entertaining game that might not blow you away in terms of ground breaking gameplay, however provides an ample amount for a budget indie game that aims to be a more casual endeavor. Those who enjoy a real challenge can still find one here on the games veteran difficulty. Quality title.
Where to buy iBomber Defense
You can find copies of iBomber Defense at a number of different places, including the App Store for iOS users.
There does not seem to be and android version available.